Strawberry/Cake
Hannah has a mum and a dad and strawberry plants on the balcony. Just like every year, she is looking forward to when the strawberries will be ripe. But this year everything is different because mum and dad have suddenly decided to separate.
Jordbær/Kake is the story of a perfectly normal divorce, told from the child's perspective. With hurt, angry, sad, playful and comical situations, everyday life is sliced up like a strawberry gateau.
The performance consists two simultaneous versions:
Jordbær for children aged 8 and up
Kake for adults
Both performances are based on the same manuscript.
This text has been nominated for the National Ibsen Award 2022.
Strawberry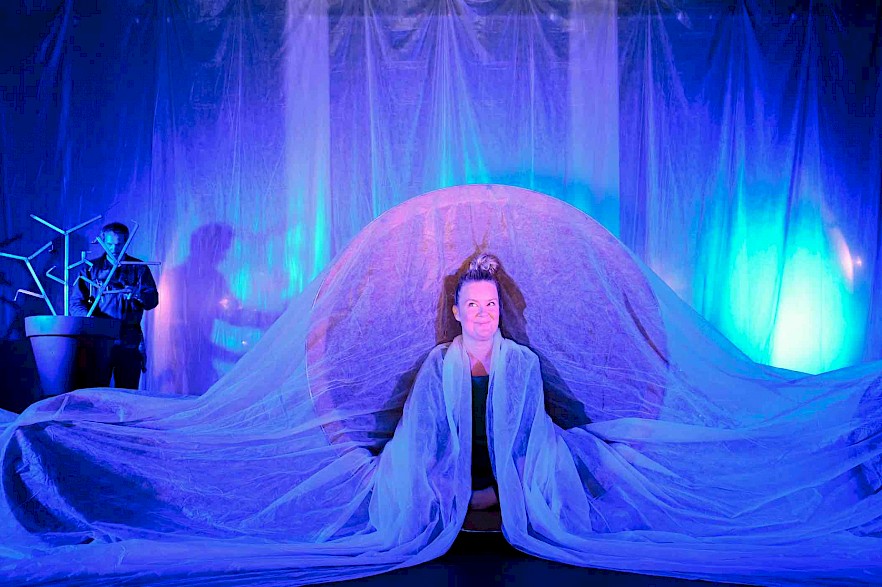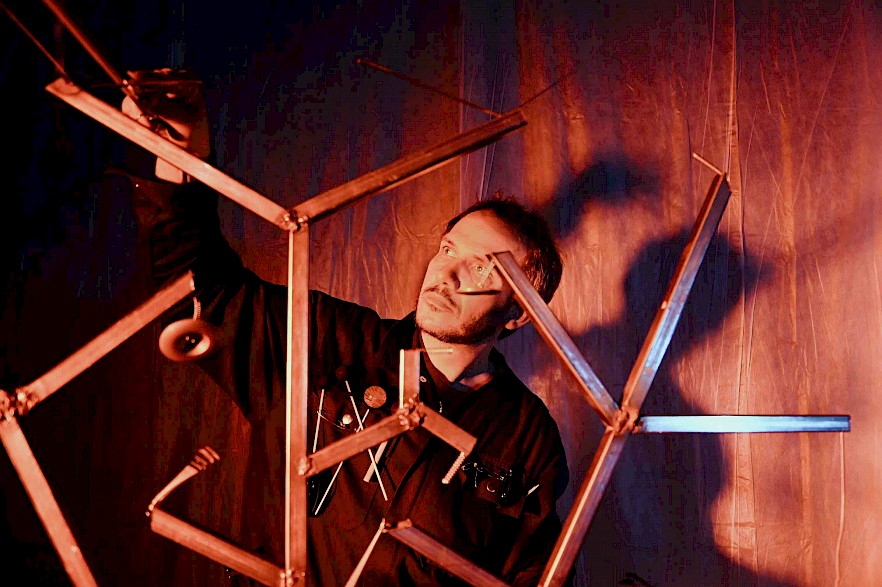 Cake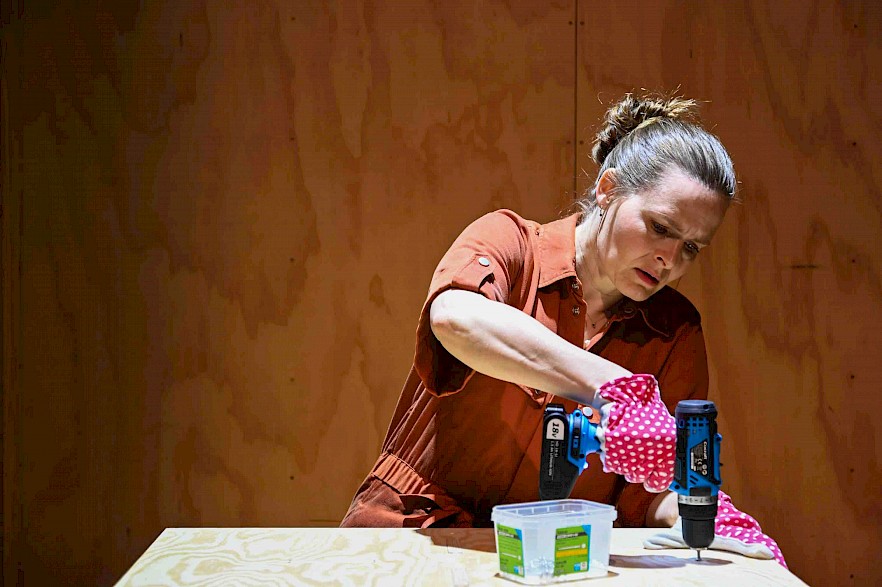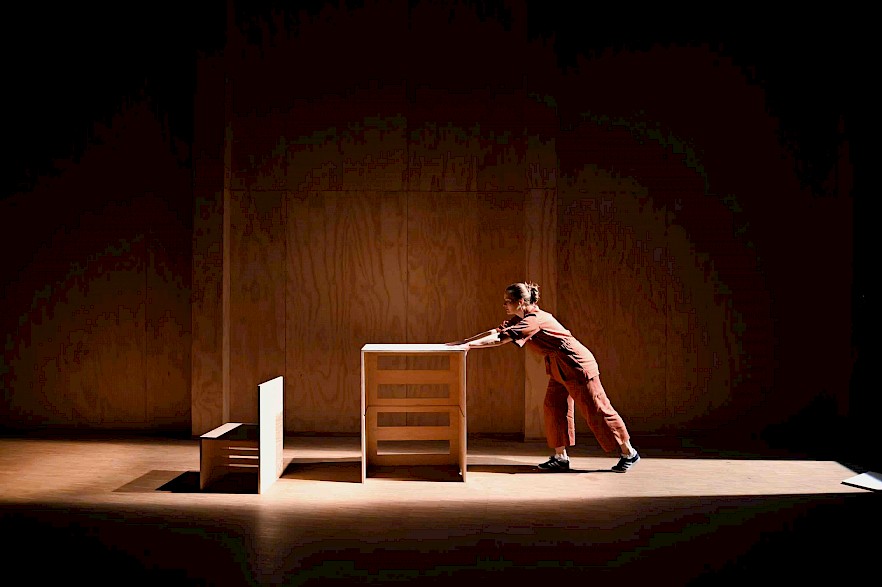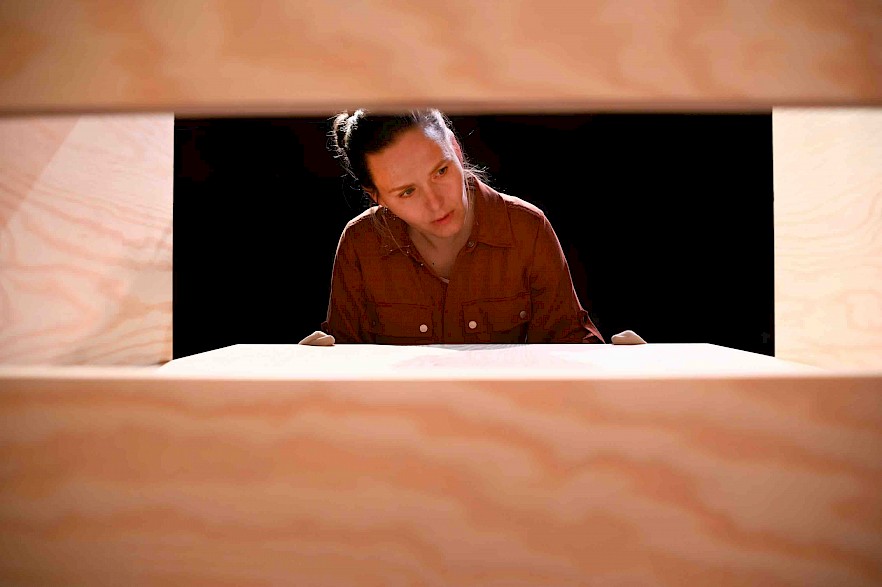 (video: Lina Hindrum, photos: Marie Charlotte Thomsen Lund)
Created by and featuring Ann Sam Bell artists:
Nelly Winterhalder – manuscript/director
Nelly is a playwright, director and translator. Her works have been performed in Norway, Switzerland, Austria, Italy and Nicaragua.
---
Torgunn Wold – actor (Strawberry)
Torgunn is an actor and performer with many years' experience of clowning and puppet theatre. She trained at the Norwegian Dance Academy, Oslo and Ecole Internationale de Theatre Jacques Lecoq in Paris. Most recently, Torgunn has been working in theatres in Norway, Sweden and Amsterdam. She has produced a number of performances which are now on tour.
---
Ulrik Ibsen Thorsrud – musician/instruments (Strawberry)
Ulrik is a percussionist and composer of improvisations and contemporary music. He studied jazz and improvisation at the Leeds College of Music. He works in a number of cross-disciplinary constellations involving theatre, dance, video and lighting. He also builds installations and instruments. 
---
Kjærsti Odden Skjeldal – actor (Cake)
Kjærsti has worked as an actor since 2007, including performances with Grusomhetens Teater, Akershus Teater, Nordland Teater, Agder Teater, Tigerstadsteatret, Det Norske Teatret and Rogaland Teater. She has played in several films including Joachim Trier's Oslo, 31. August and Jorunn Myklebust Syversen's Disco.
---
Mie Dinesen – scenography
Mie studied architecture at the Aarhus School of Architecture in Denmark. She creates art in public spaces and scenographic work for dance, performance and theatre in Norway and Denmark.
---
Solveig Holthe Bygdnes – costumes
Solveig comes from Harstad and has a bachelor's degree in Clothing and Costume Design from the Oslo National Academy of the Arts, 2016. She has undertaken costume design for a number of theatres around Norway, including the productions of Midtsommernattsdrøm på Tønneloftet in 2019 and Beretning om Blindhet in 2020.
---
Ane Reiersen – lighting (Strawberry)
Ane collected her diploma in Lighting and Stagecraft from NISS in Oslo in 2014. She now has several years' experience from the events and rental industry as well as from theatre and dance. PEER/BITCH, 2019, Mikrobia, 2020, and Mellom tiden, 2020 (premiere postponed) are among the productions for which has designed the lighting.
---
Corentin JPM Leven – lighting (Cake)
---
Ingeborg Husbyn Aarsand – production
Ingeborg is a trained specialist in North American studies and works as a performing arts producer in Oslo. She also takes on DJ assignments.
---
Karina Walgermo Johnsen – scenography/assistant
---
Tone Emblemsvåg – illustration and graphic design
Supported by Arts Council Norway, the Audio and Visual Fund, Tono, Spenn, Seanse, Fritt Ord, Bergesenstiftelsen and the Municipality of Oslo.